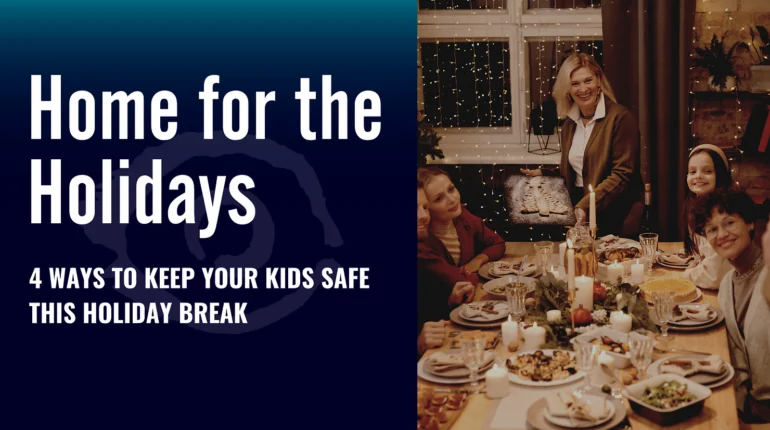 Holiday break is almost here! Along with baking cookies and binge-watching the holiday classics, we need to start the tradition of talking about how to keep kids safe. Here are 4 ways to prevent grooming and sexual abuse, online and off, this holiday season!
Watch for signs of grooming
Its horrific to think that members in our family could be abusers, and yet child sexual abuse often happens at the hands of family members. As we travel to gather around different tables and reconnect with loved-ones, be mindful of opportunities for abuse. Create strong boundaries for your child and others so abuse doesn't happen behind doors of holiday gatherings. Learn more about how to keep your kids safe at family gatherings here.
Set reasonable limits on screen time
Online predators find great success grooming children with unsupervised screen time. Knowing kids will log on more during holiday break, predators will be lurking social media, online games, etc. to find kids who can be easily groomed. Set time limits and keep screens out of bedrooms to eliminate the privacy a predator needs to manipulate your child. Learn more about setting healthy screen time limits here.
Recruit your support network
Families who can talk about big issues such as sexual abuse and human trafficking are families who build the support system it takes to raise children. Create a culture where no topic is too taboo to discuss. Yes, these are hard conversations to have if you haven't seen it done before. Defend Innocence has resources to help!
Develop Fun Traditions
It may not seem like baking pies and watching the Macy's Parade can make a difference in your child's sexual health, but it might! Children who feel supported and loved by the family are less likely to be manipulated by a trafficker they meet – online or in person.
As your children grow and change, find new ways to connect with them and develop their trust with you. You never know when they are going to need your help with a situation like sextortion. Showing up consistently for these little moments makes a real difference in their ability to come to you when they need to.
Thank you for partnering with us to conserve childhood by investing your time to support the lives of children in your circle. Ready to partner with us financially? Your support helps us continue making a difference for every child. Set up your monthly donation here.
---