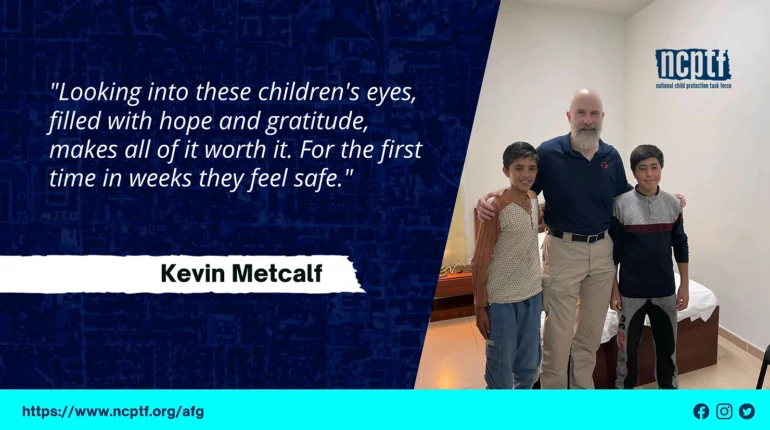 Updated: Sep 5, 2021
What is Operation Chivalrous Knight?
A mother races to the airport gates, child jostling in desperate arms, as she fights for one last chance at freedom from Taliban rule. The distance closes in and hope within her rises.
Behind the barrier, she sees the growing scene of American forces and organizations helping the transport of masses as the United States' longest war finishes its final chapter.
The young girl is hastily pushed through the gates, just as the Taliban's shot thrusts the mother's body to the ground.
Alone, the child boards an airplane departing Kabul with the mass of other passengers who too gained one last shot at a safe tomorrow.
This is the reality of so many children. Over 5,000 Afghan civilians, including 1,200 children and 400 orphans – many seeing their parents faces for the last time behind those gates – were rescued from the violent reality of their homeland during Operation Chivalrous Knight.
The National Child Protection Task Force, alongside other NGOs joined together to rescue thousands of vulnerable Afghan civilians, including those orphaned children.
"We have children whose parents couldn't get out," said Kevin Metcalf, CEO of NCPTF. "They made sure that their kids got over that wall or got through the gate. What I hope will happen is that this American spirit will once again step up and say we're going to take those kids."
The National Child Protection Task Force – an all-volunteer led organization of skilled legal, law enforcement, and tech professionals – supports law enforcement and works diligently to operate human trafficking, child exploitation, and missing person cases. When they were called upon to help in the Afghanistan crisis, founder Kevin Metcalf and others boarded the first flight out to Kabul.
Since then, they have tirelessly worked to bring these vulnerable populations to safety, especially the orphaned children.
Despite no clear pathway to get these children to the US, Kevin Metcalf understood the importance of acting quickly. If these orphans didn't have people step up, their future would be grim. These people faced major risk of retribution killing, slavery, and child exploitation at the hands of the Taliban.
"An exploited child in the United States can at least have hope that someday someone in authority will find out and do something," he said. "A child whose own government exploits them doesn't even have that."
Since the successful first leg of Operation Chivalrous Knight in the Afghanistan crisis, The National Child Protection Task Force has ceaselessly worked to pave a path for these children to reach security on US soil.
The thousands of refugees have been temporarily relocated to a friendly country, whose support has been imperative to the mission.
However, the mission isn't over. The task at hand now is swiftly carving a safe expressway for these vulnerable Afghan citizens, especially the orphans and unaccompanied minors.
As the National Child Protection continues to collaborate with non-government organizations to finish the second half of the Afghanistan rescue mission, Chivalrous Knight, we ask for your help.
In each and every one of the thousands of human trafficking, child exploitation, and missing person cases the NCPTF has helped solve, we have never sought credit. Our priority has always been results, not recognition.
However, right now, we need your support. Please donate to financially partner with us and finish this Afghanistan rescue mission, Operation Chivalrous Knight.
The National Child Protection Task Force imagines a world where children wake up to experience childhood, feeling safe and ending each day looking forward to tomorrow. With your help, we can do just that!
---